Different Ways to Rock Your Sweaters
5th Oct 2020
Sweaters are a must-have during the fall and winter months. Sweaters can keep you warm and cozy while providing a stylish look that can go with any outfit. Whether you choose an oversized sweater or a cardigan-style sweater, there are an endless amount of styles you can rock when you have a collection of sweaters.
At Modern Vintage Boutique, we carry a collection of stylish and trendy sweaters that can help you create the perfect look while staying cozy all fall and winter long. In this blog, we are going to give you some fun and unique ways to style your sweaters! Read on to get some fashion ideas and be sure to shop our collection of sweaters!
With Jeans
One of the simplest and most common ways to wear your sweaters is with a pair of jeans. This is a classic look that will never go out of style and can be dressed up or down. Pairing your sweater and jean combo with some cute booties can give your outfit a fancier touch, perfect for date night or a casual client meeting. For a more relaxed and laid back look, pair your sweater and jeans with some cute tennis shoes or high-top sneakers. Add a hat, hair scarf, or jewelry to add to the outfit. You can do so much with the sweater and jeans combo that you will never run out of options!
With Leggings
Leggings are another classic piece to pair with your favorite sweaters. Leggings are great for those sweaters that are a little too long and can make jeans look awkward. They can also be a great option for cropped sweaters or cardigans. Similar to jeans, you can dress the legging and sweater look up or down by adding different shoes and accessories. While many people pair leggings and sweaters together on days they want to feel comfortable and have a relaxed and chill look, it is simple to dress this look up, especially if your leggings are anything but plain black.
With a Dress
Pairing a sweater with a dress is a more unique way to style your sweater. Since many people don't wear dresses during these colder months, this is an outfit that many don't dare to try, but we absolutely love it! Pair a dress with your favorite sweater and a pair of boots or booties. You can add tights to the look to keep your legs a little warmer as well! This is a cute, trendy, and super stylish outfit that we are sure you will love. If you love wearing dresses during the summer, don't let colder months stop you! Add your favorite sweater to the mix and rock those dresses all year long. You can also pair cardigans with dresses for a different look. There are several ways you can match dresses and sweaters. You can go with a tight dress and a baggy sweater or a flowy dress with an oversized sweater to give you a stylish and cozy boho look.
As a Dress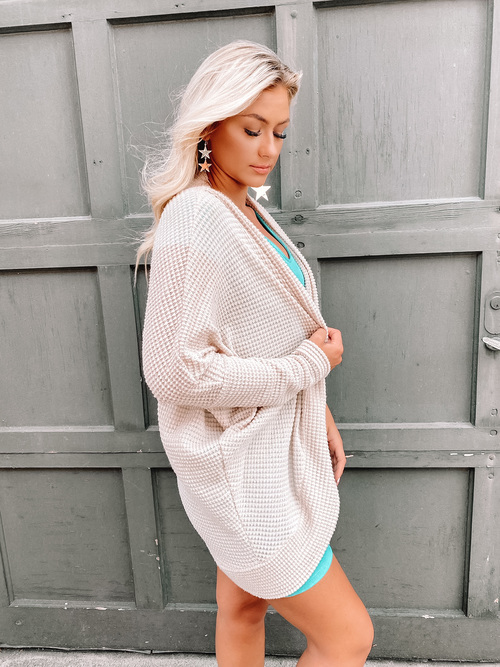 If you have oversized and long sweaters or you have actual sweater dresses, creating a sweater dress outfit can be a fun way to rock your sweaters. Pairing a sweater dress with thigh-high boots is stylish and trendy. You can also pair your sweater dress with thigh-high socks and booties for a different and unique look. Add a denim jacket or a peacoat or trench coat to complete the look. You can also accessorize with a scarf and a hat to create a look that screams fall vibes.
With a Skirt
Whether you go for a pleated skirt, a pencil skirt, or a denim skirt, this is a fun and stylish way to wear your sweaters. Skirts, like dresses, can help you create a girly and chic look with your favorite sweaters. There are several different ways to style this combination. You can wear a tighter and thinner sweater tucked into a denim or leather skirt. You can wear an oversized and sleek sweater over a pencil skirt. Or you can add a chunky sweater over a pleated skirt and French tuck it. Add some booties and different accessories and you can create a stylish look that you will absolutely love!
With a Button-Down
For an elegant and classy look, you can pair a sweater with a button-down. Layer your sweater over the top of the button down and roll your sleeves so that the button-down sleeves show underneath. Make sure to have the collar of the button down pop out of the collar of the sweater. This is a great look for meetings, lunch dates, and other outings. To get even more creative with this look, pair a patterned sweater with a plaid button-down — think simple stripes. This combo pairs perfectly with distressed skinny jeans and booties and distressed mom jeans and sneakers.
With Shorts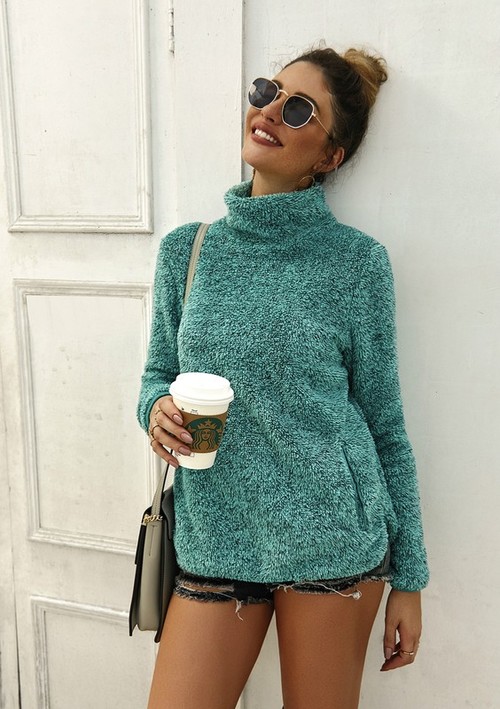 Pairing a sweater with denim shorts or leather shorters can help you create the perfect fall outfit. Layer the shorts over tights, layer the sweater over a button-down, and add some booties and a hat to create a chic and trendy look. This is a style that we love but we don't see enough people rocking it! If you are looking for a unique outfit to try this fall and winter, be sure to try this combo.
With a Jumpsuit
Jumpsuits have become a trendy look and we are all about it! Pairing your favorite jumpsuit with a sweater can help you create the perfect fall look. This is a great style to rock your cropped sweaters with. If your jumpsuit is a little baggier and has tank top straps, you can ever wear the sweater underneath! This is also a great option with overalls. Pair with some booties, a hat, and a scarf!
With Pants
Pairing a sweater with wide-leg pants, paper bag pants, or palazzo pants is another great option. This flowy and cozy look will surely become your go-to throughout all of fall and winter. You will love the comfy you feel while still looking cute and trendy. You can pair both chunky sweaters or slim and tight sweaters with these different pant styles to create a unique look. These are also great options to wear your cardigans with!
There are so many different styles and outfits you can create with all of the sweaters in your closet. The best part is that you can get creative and try new things! Hopefully, this inspired you to get creative with your fall and winter outfits and try something new.
At Modern Vintage Boutique, we love unique and trendy styles. Our online women's boutique is full of great styles and pieces to add to your closet. Be sure to shop through our collection of sweaters to find a new one to try some different outfits with! We are excited to see what you come up with.